More About Us
Formerly known as Firth Community Church, E-Free Firth has been at its present location in the heart of Firth, Nebraska since 1948. But the church's history goes back in the community long before that. The church seeks to continue a long tradition of faithfully preaching the good news of Jesus Christ, standing firm on the foundation of God's word.
We have entrusted oversight of the ministries and pastoral care of the church members to a board of elders, consisting of three godly men in the church which includes our pastor-teacher, Timothy Schmidt.
We are passionate about furthering the Gospel through international and local missions.  Juan Fernandez' ministry to the Spanish-speaking community in Firth and other parts of South-East Nebraska is a part of this vision to continue proclaiming the Good News in the place God has called us to minister.
We desire to make ourselves and our ministries available to all in the community, currently drawing on members from South Lincoln and all of the communities South of Lincoln, but especially we desire to minister to those in Firth and nearby. If you know of any spiritual or physical needs in our community that we could be used of God to help meet, please accept our invitation to contact us.
Some information on our pastor:
Timothy Schmidt grew up Lincoln, Nebraska, with family from Cortland, Beatrice, and Pawnee City. He married Jaime Vallicott on March 16, 1996. After graduating from the University of Nebraska in Lincoln in 1997, Jaime and Timothy moved to Los Angeles to attend The Master's Seminary, until the Spring of 2000.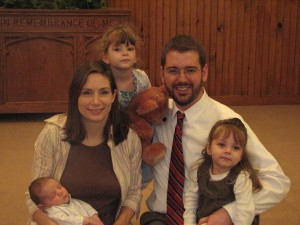 Upon graduating, Timothy spent a year in Wyoming as youth pastor at Immanuel Bible Church. Moving back to Lincoln, Timothy served as interim pastor for a church plant in Hastings, Nebraska. Jaime and Timothy then spent four years in Naples, Florida, working alongside local pastors in Naples Bible Fellowship and then in Berean Baptist Church.
Timothy and Jaime have four children – 3 girls and a boy, ranging from 8 years old to 6 months.
"I am delighted to be back in South-East Nebraska," Timothy remarks, "It has always felt like home to me."
Directions
To contact us:
Evangelical Free Church of Firth
101 E. 3rd Street
PO Box 275
Firth, Nebraska 68358
(402) 430-7665
e-mail – efreefirth@hotmail.org